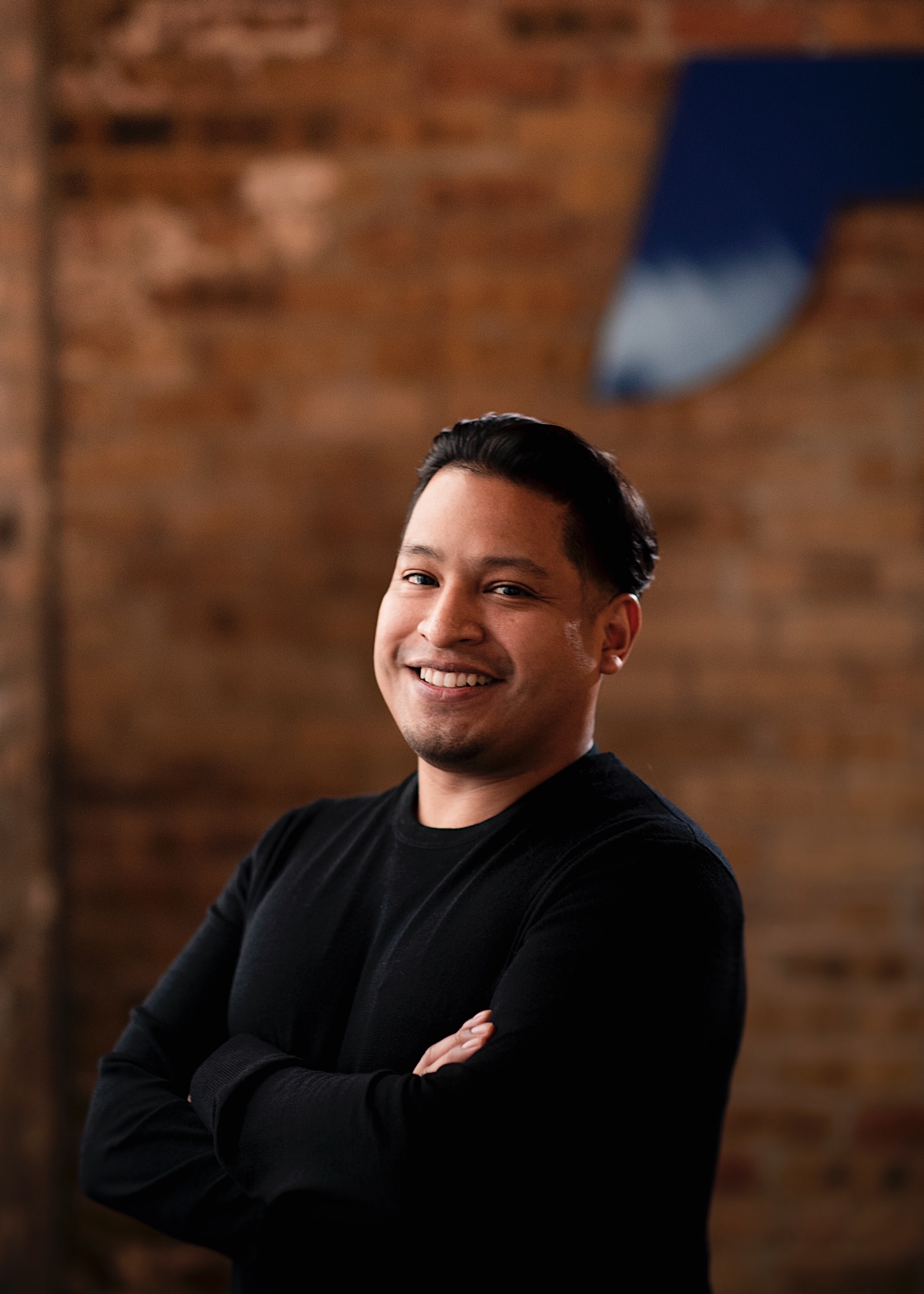 Bobby Reyes
Experience Designer
Forager Carrier Portal
Market Place Web App
Forager is a cross-border logistics platform specializing in North American freight. The company with its technology is solving problems for international shippers and carriers by delivering transportation solutions. More than a traditional brokerage firm Forager offers real-time freight management, 24/7 tracking, instant booking, and now a freight marketplace.
Role:
User Research
Information Architecture
Userflows
Wireframes
User Interface Design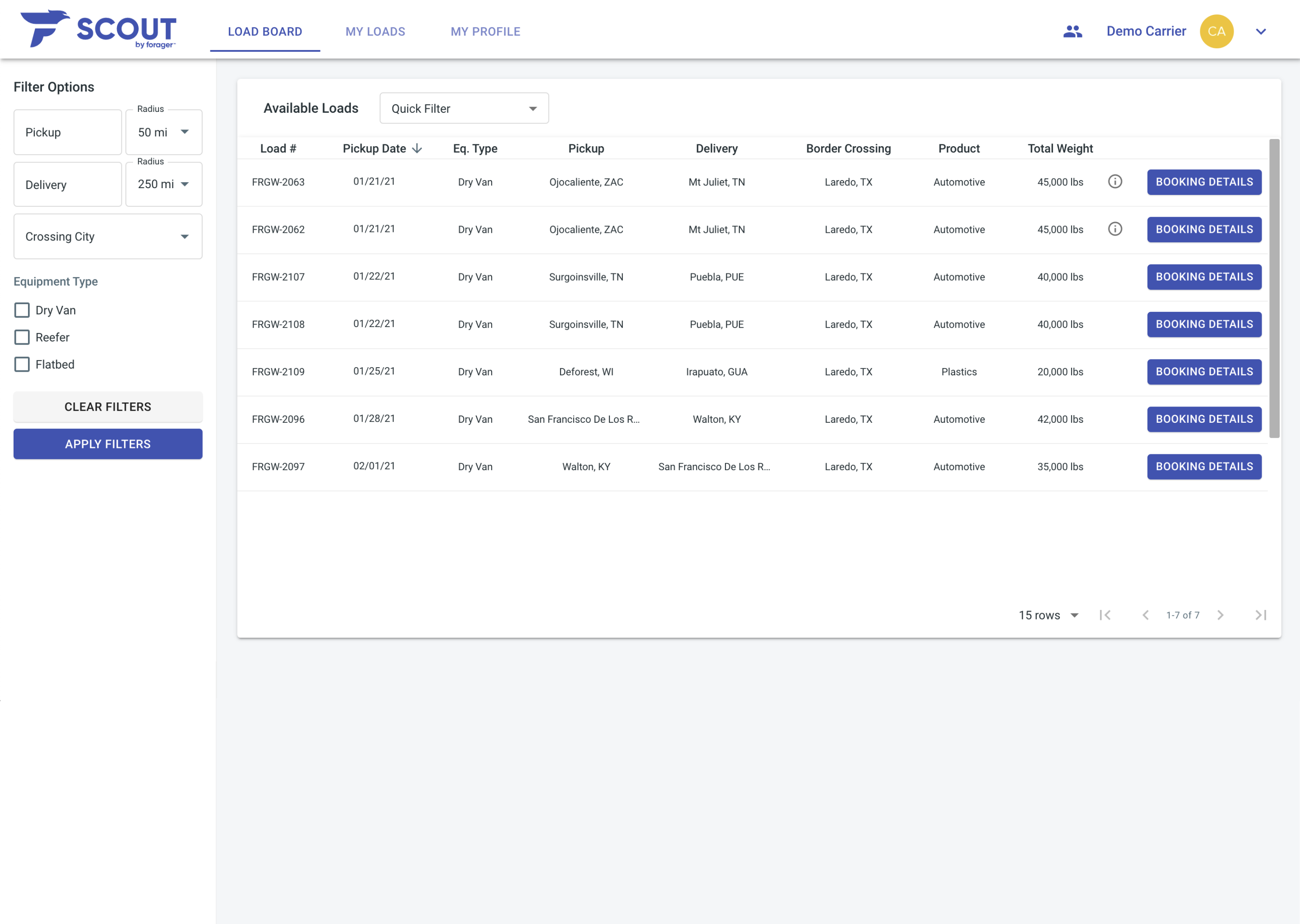 Forager Carrier Portal
I along with two Product Managers was tasked with creating an MVP for a Carrier Marketplace. It would be a part of Forager's suite of products tailored to shippers and carriers. The audience we were trageting for the MVP were carriers in Forager's freight network. Getting this product launched was the first step in creating a fully managed and collaborative marketplace where carriers and shippers could do business with each other without Forager reps.
The initial goals for the MVP were to provide a self-service option to bid on loads, move Forager reps away from a manual process, and help shippers become in charge of bid management.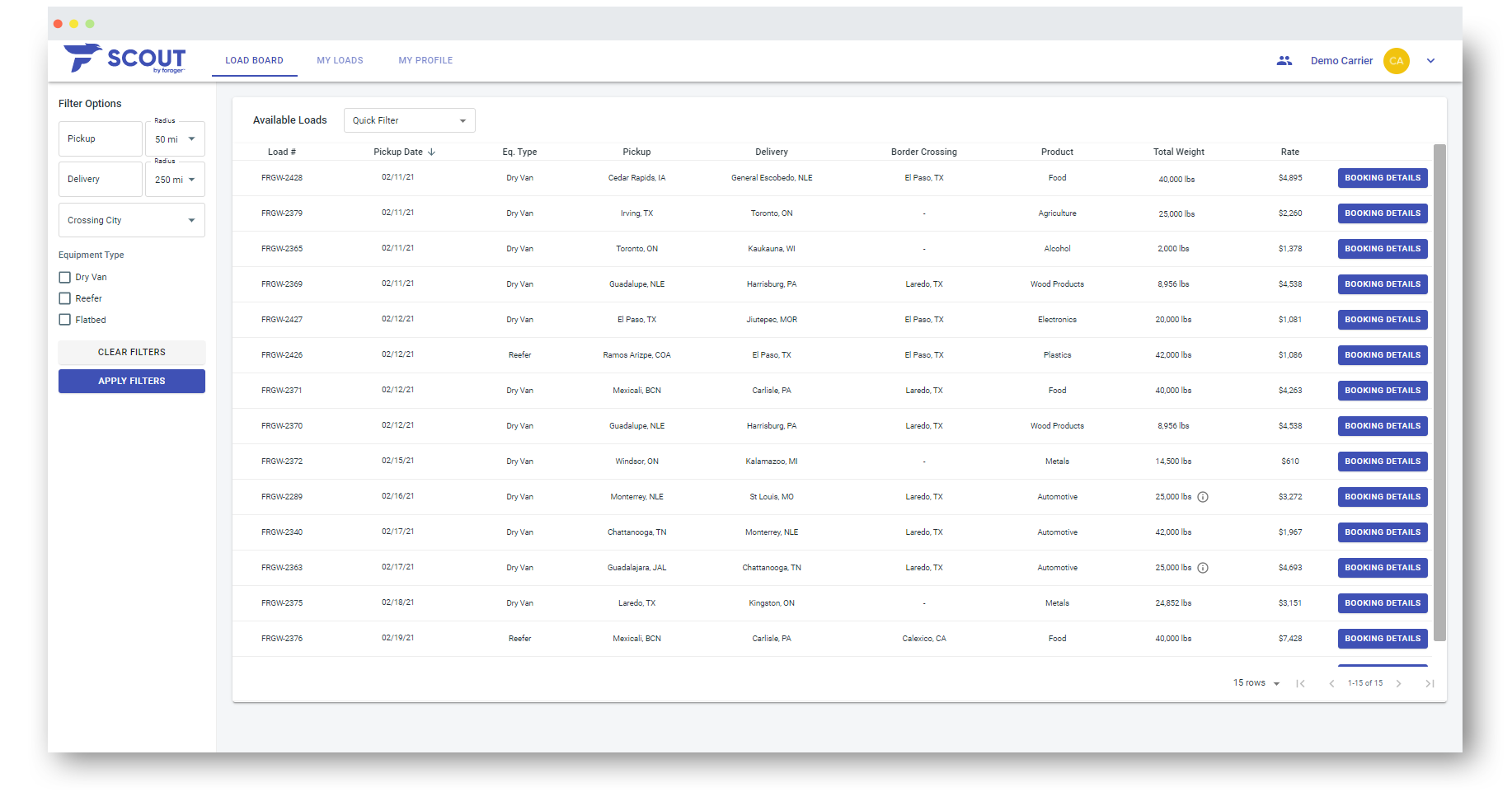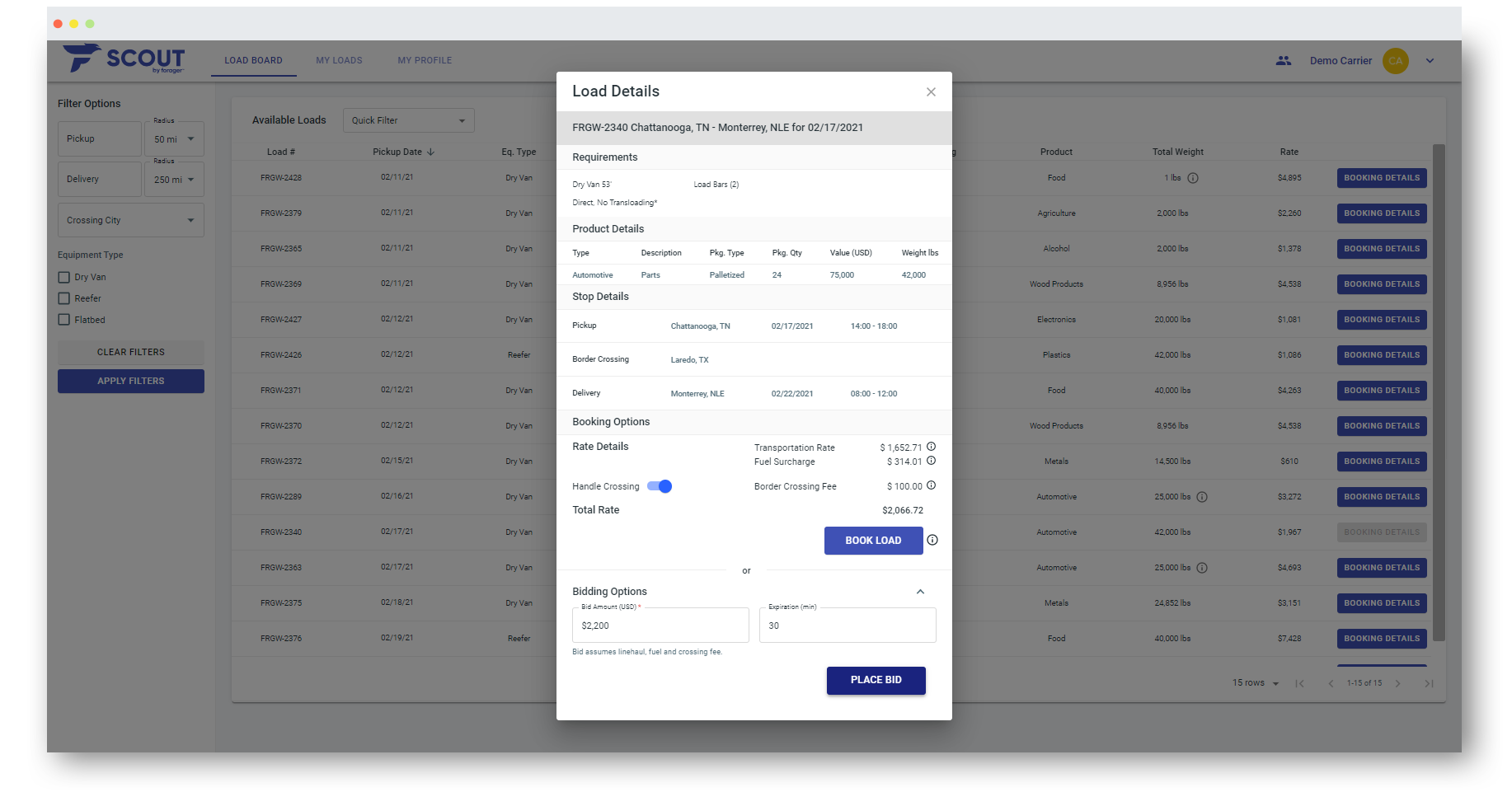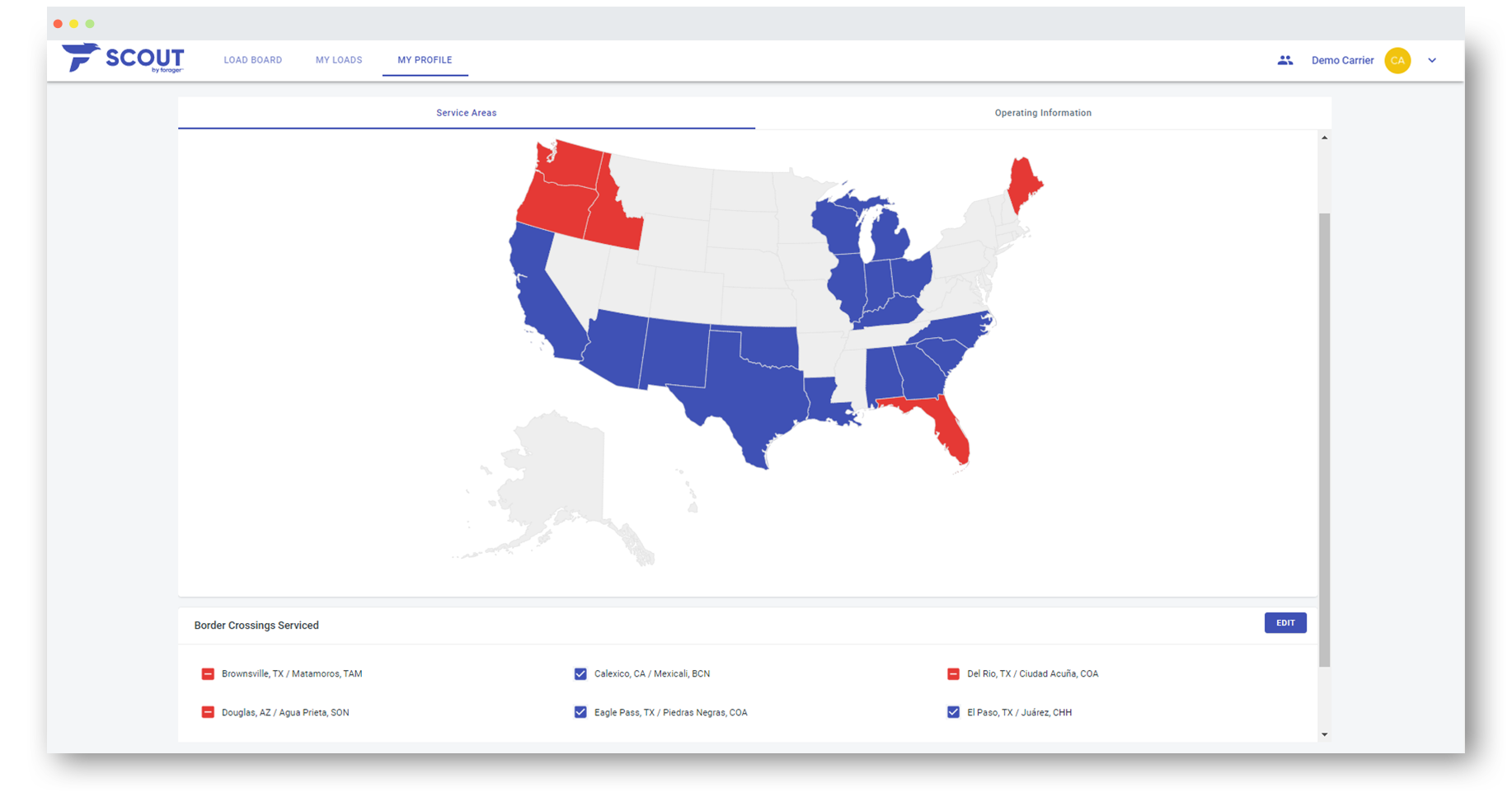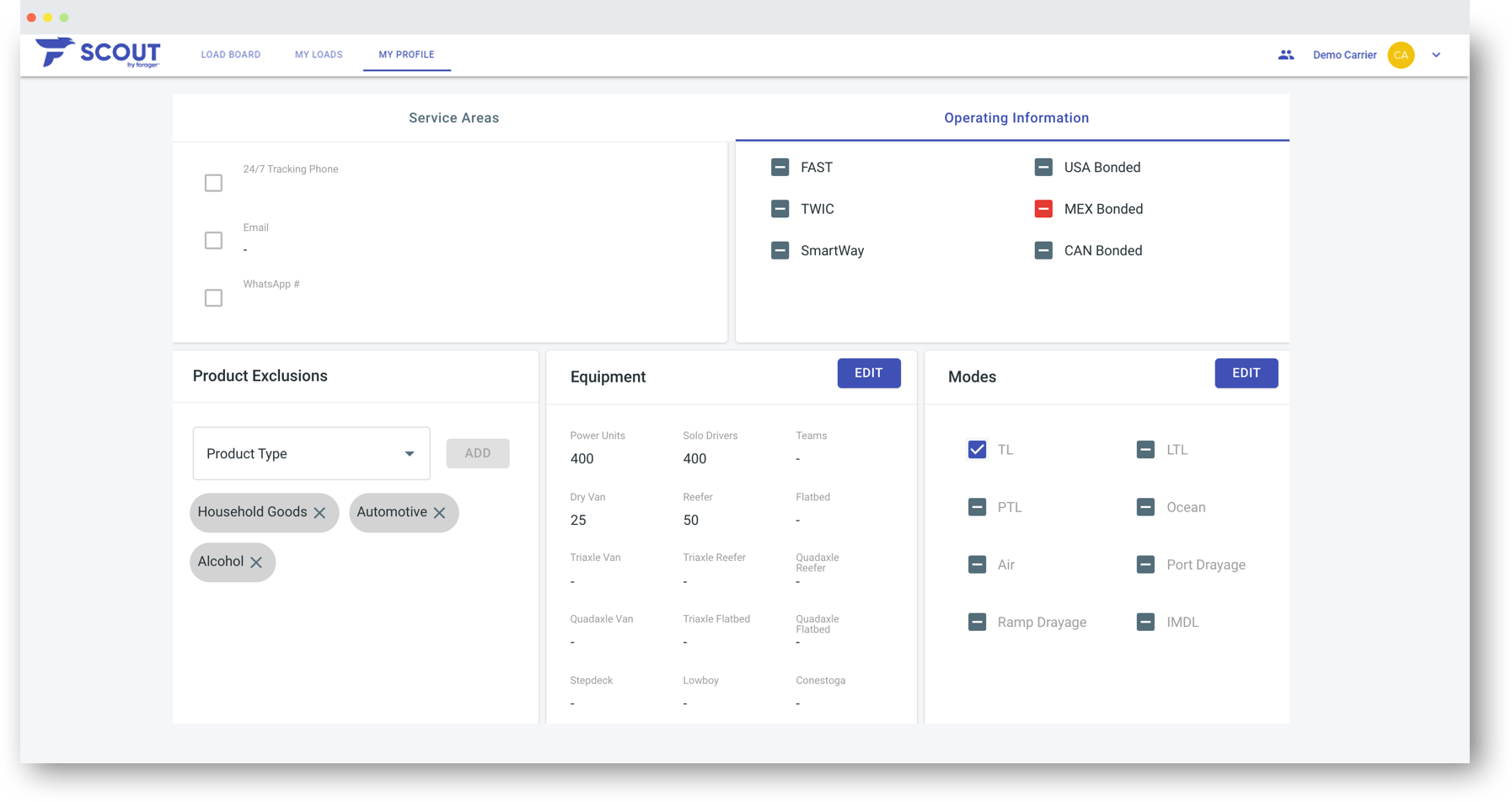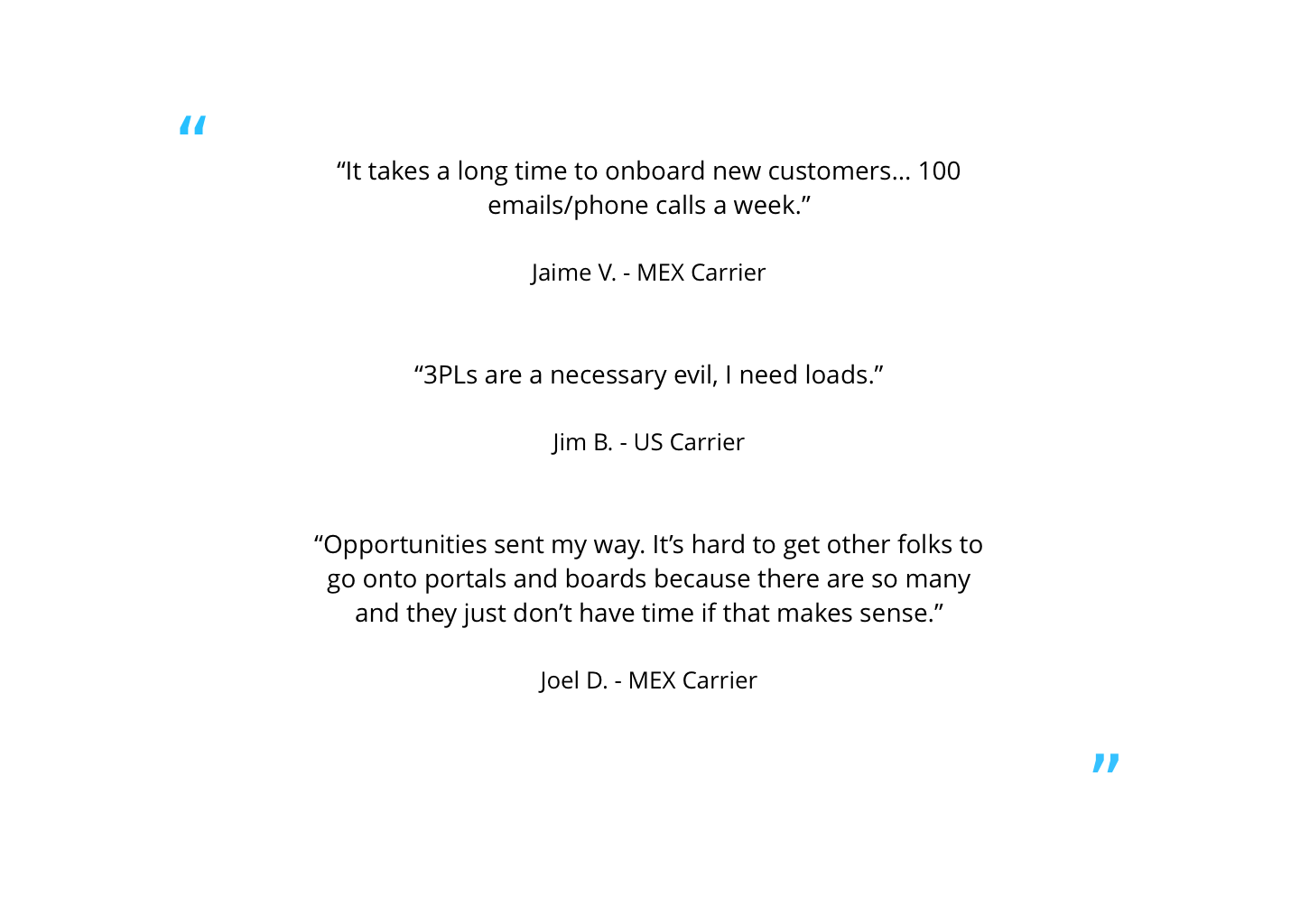 Interviews
Even though our team had a lot of experience working in the freight world. It was still important to conduct user interviews with US and Mexican carriers in order to get a better understanding of their problems. This part of the process proved to be valuable as we worked on scoping out the MVP. We got to learn about the current products that they were using. While also learning what pain points carriers had when using them.
Due to constraints, there were only 3 carriers interviewed that were part of the Forager network. But we learned that the use of load boards was an industry standard. Also, there was a lot of back and worth between shippers and carriers when bidding for loads. If there was more time I would have liked to speak to more carriers to try and dig deeper into the problems they face.
One quote that stuck out was that some carriers just don't have the time to be on portals. I felt this was a very important insight that needed more research issue. But knowing this we had to be aware of how we could do to solve this problem.
Customer Story Map
To understand how customers find and interact with the product we created a customer story map. Using this method helped us understand the journey a carrier would take when using the product. This also helped us understand how our Forager reps would interact with the new portal via our internal TMS. In the initial scope, we wanted to have shippers be in charge of the bidding management inside the carrier portal. But when we brought some ideas and solutions to engineering, it would add significantly more time to our tight deadline. So instead we came up with a solution that Forager reps would manage all the bids on loads for the official MVP launch. Which a notification that was sent to them.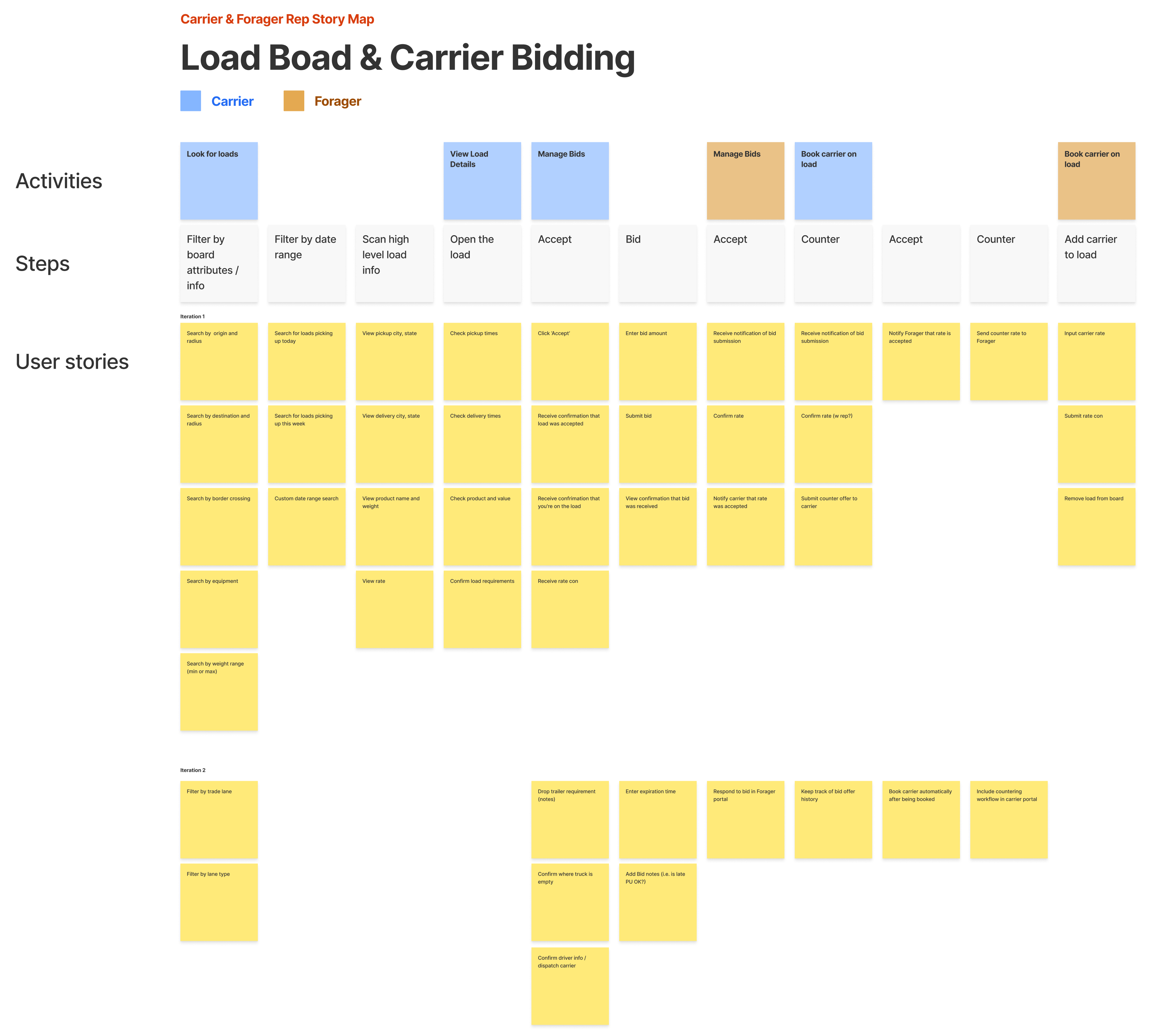 User Flow
In order to make the experience seamless, it was important to create a user flow to see what screens a carrier would interact with. Specifically, the bidding process needed to be mapped out since this was the main goal of a carrier. It also helped determine the steps Forager reps would take when a bid was submitted. Bidding is not a new concept and it was important to pay attention to widely used patterns so it wouldn't confuse carriers when bidding.


Priority Guides
After learning about the journey and getting the user flow established. I decided to create some priority guides for what features and tasks the user could take within the portal. This step is very helpful for alignment with stakeholders to see what would be prioritized without getting distracted with designs. After getting feedback on the priority guides it helped to better inform what the wireframes should be.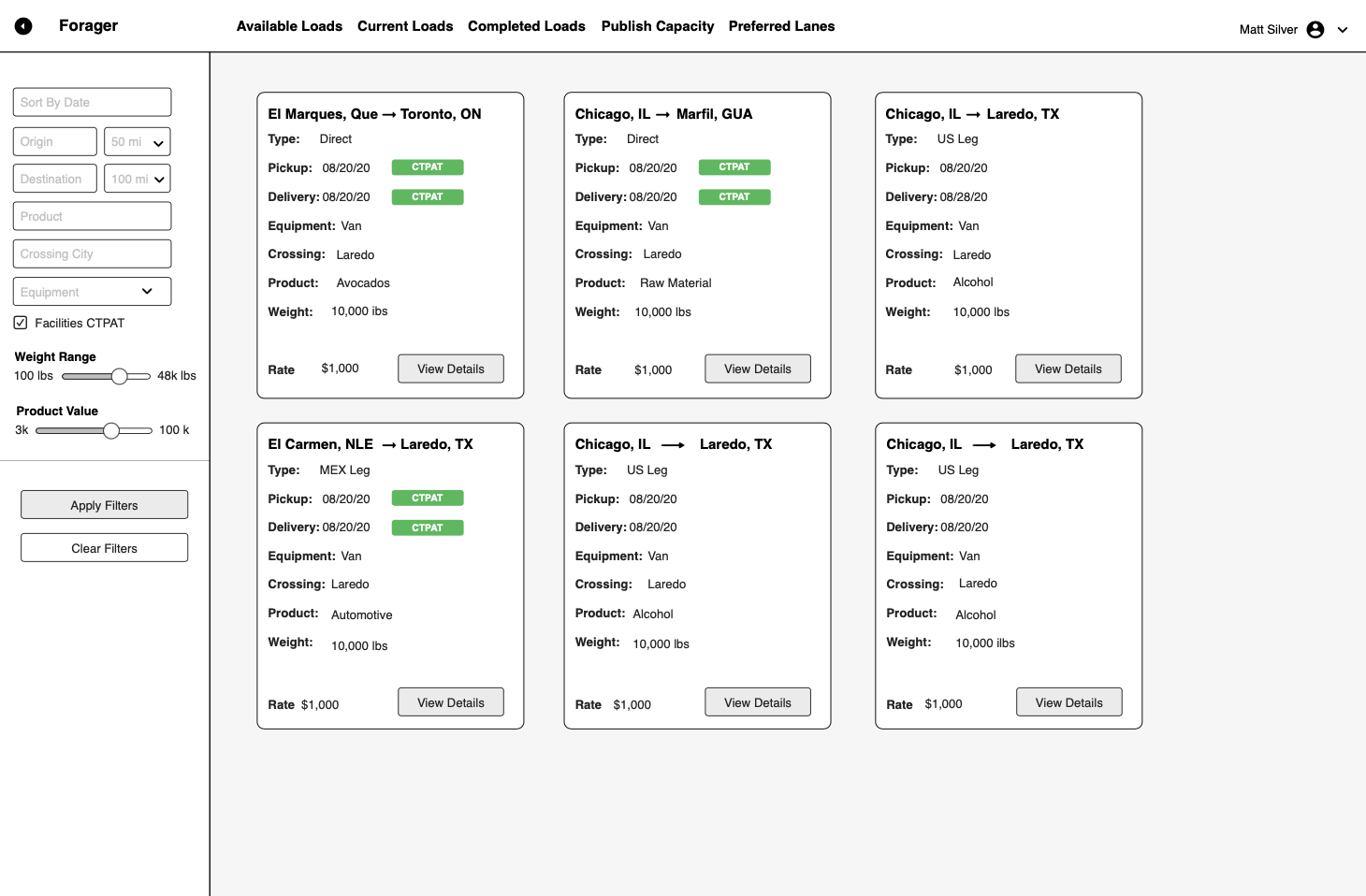 Wireframes
In my design process, I used the priority guides to help create a couple of options for wireframes. Which helped narrow down what the portal could potentially look like. In the first round of wireframes, we had a pretty robust filtering component that would make searching for loads easier. But ultimately we scaled down the component and utilized what we had in our other products.
Given that this was a market place an option was created with a card-based layout that could display more information in a more digestible way than a table. We ended up going with a table since this already in use in other products and it wouldn't display new information other than a bid button.
I was pretty familiar with our component library and wanted to stay as close as possible to what we had developed prior. But I also wanted to make sure we didn't carry over bad patterns that were not user-friendly. One component that I was asked to recycle was the border crossing services. This component was not thought out when it initially was created. It had quite of few usability issues that received negative feedback. This was part of the design debt I had to work through but due to my workload hadn't been done so. Unfortunately, it was decided that we would use the same component. Even though it had color accessibility issues and didn't give users enough information on what they were supposed to do.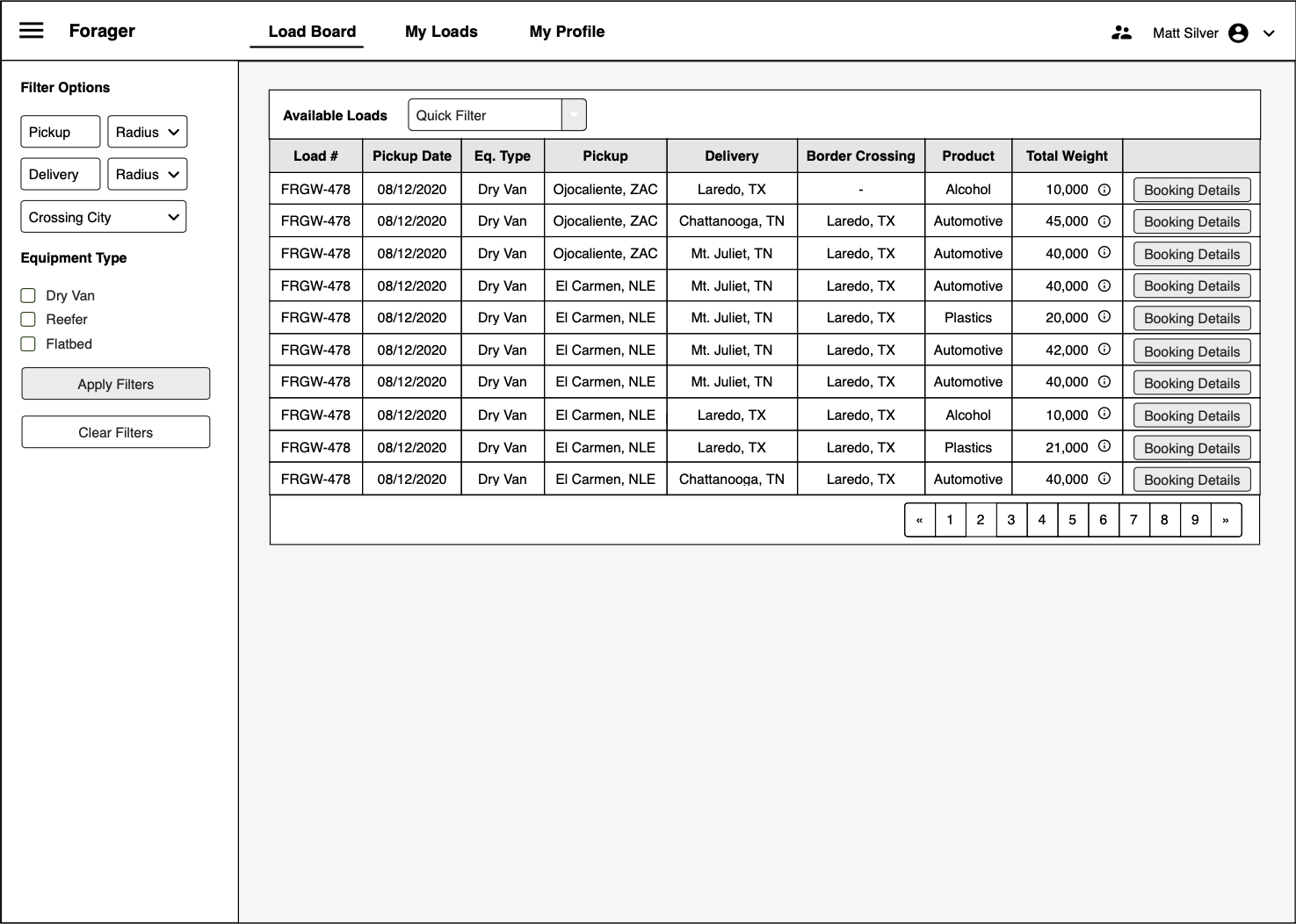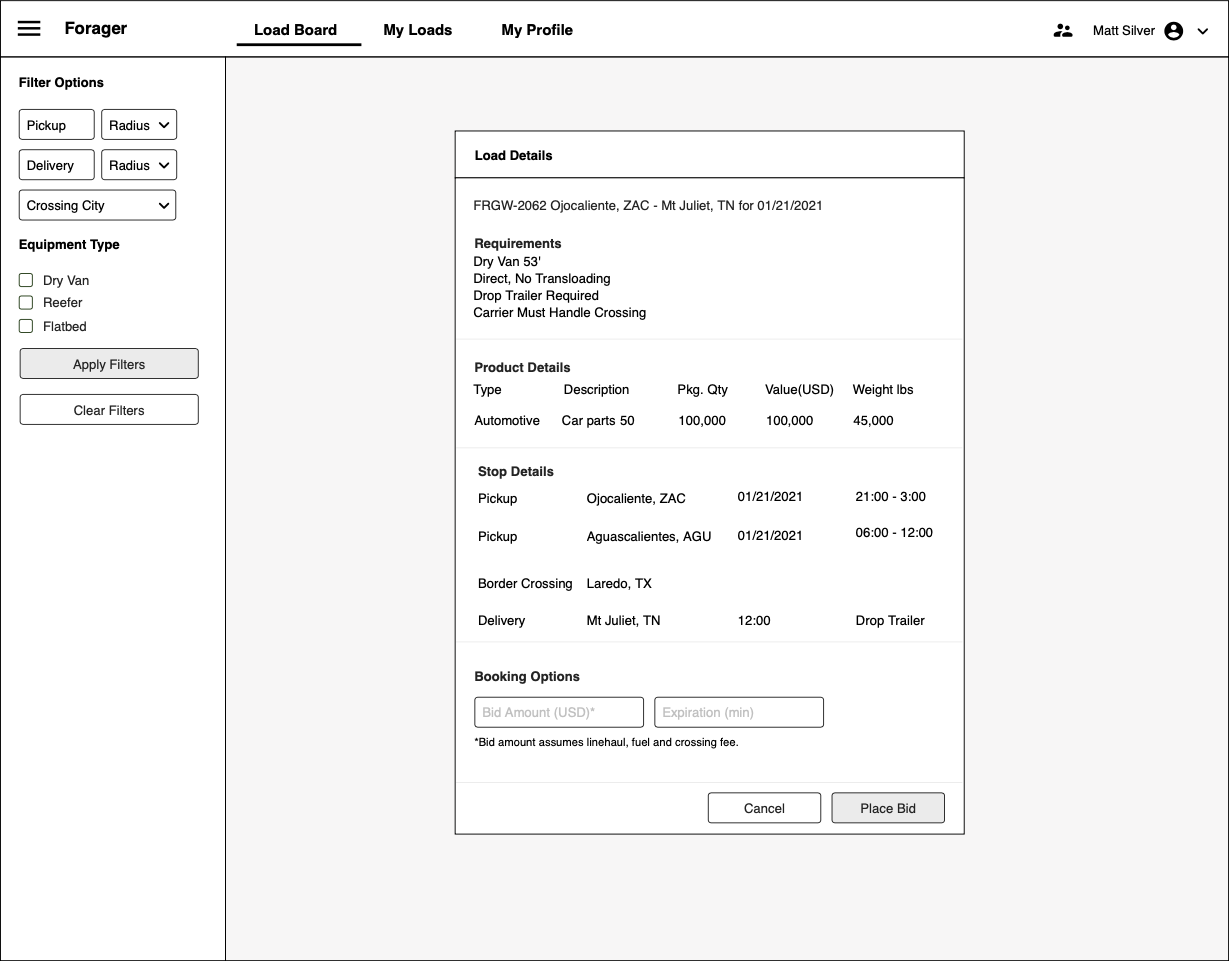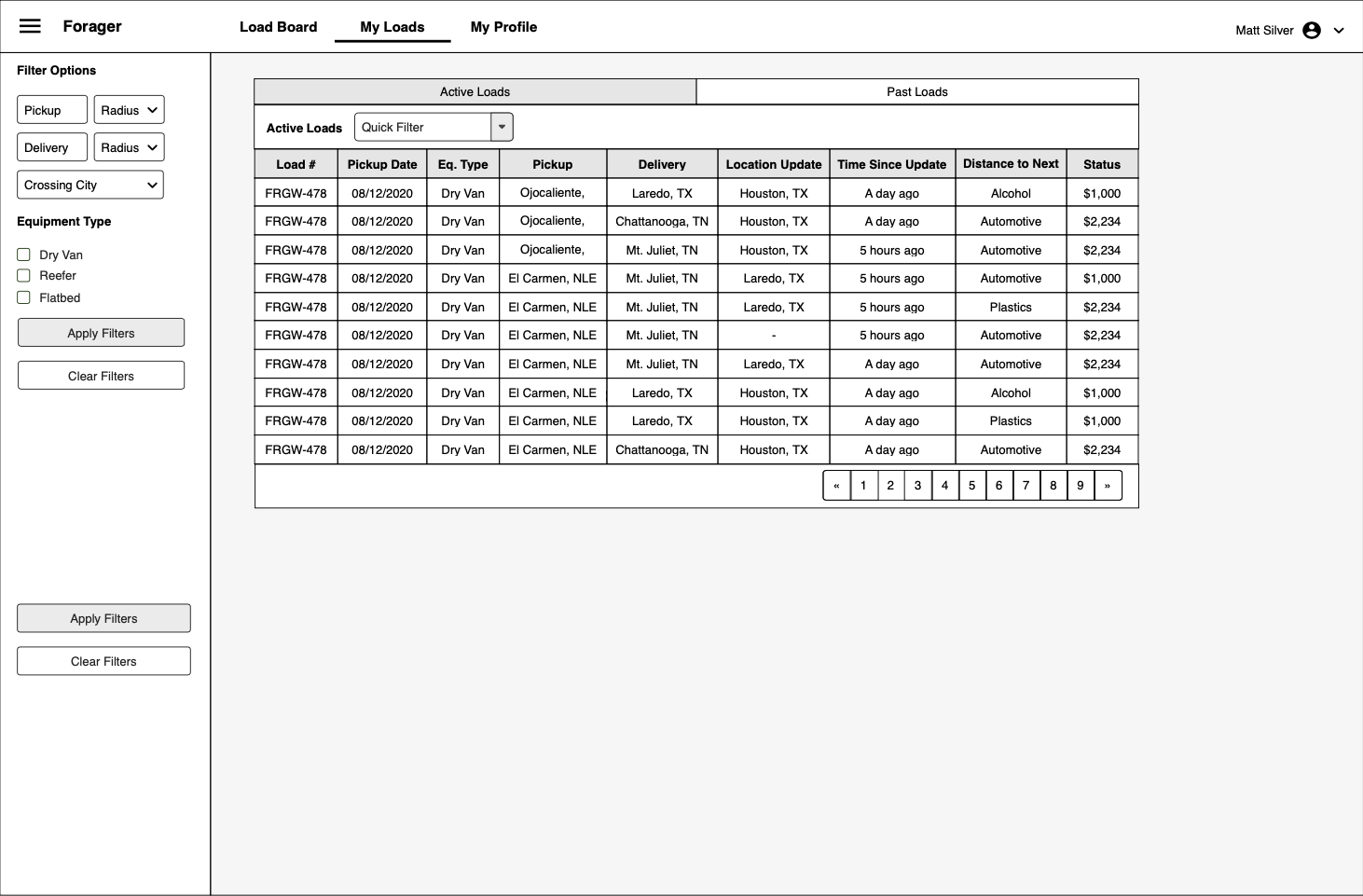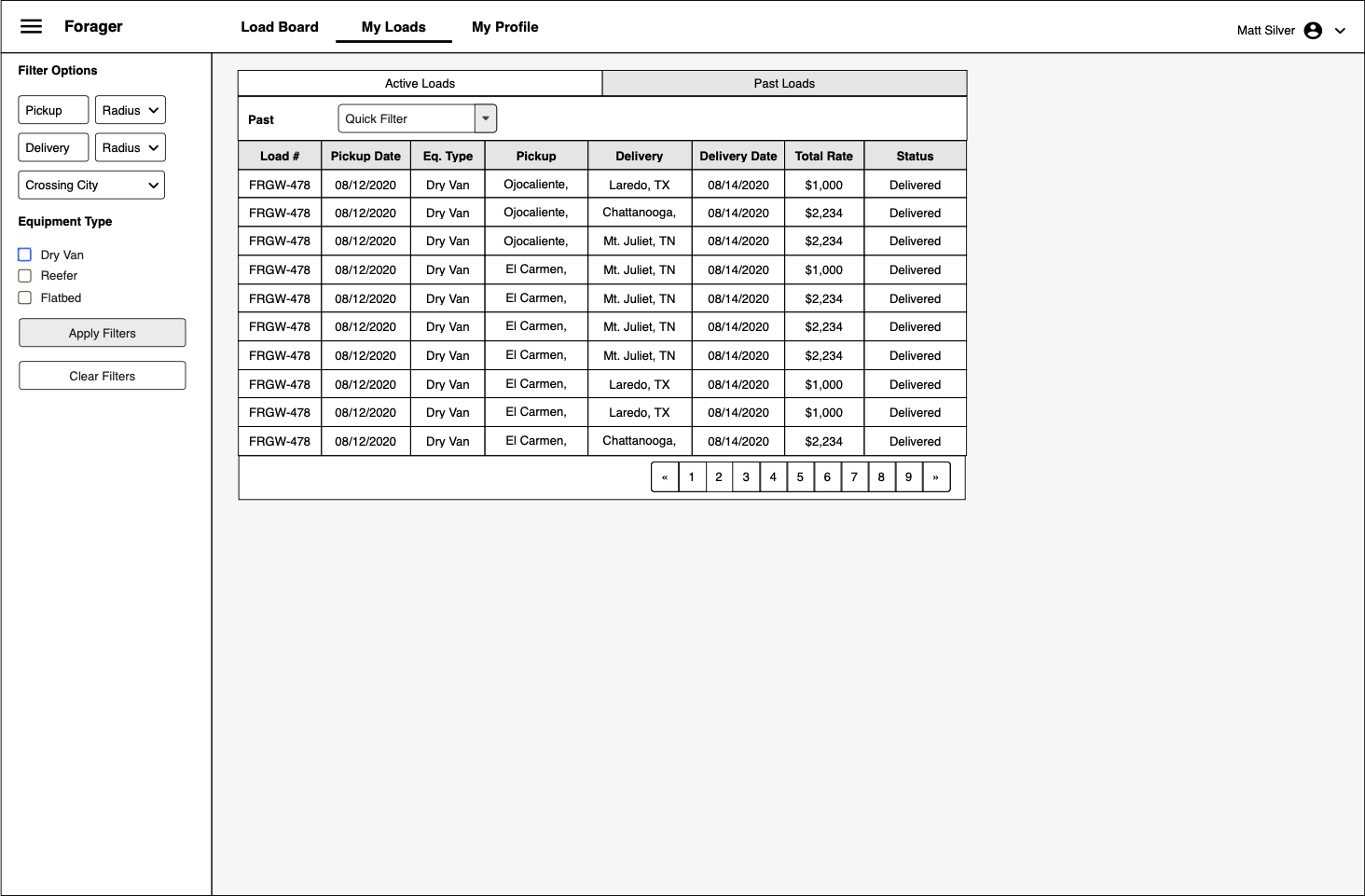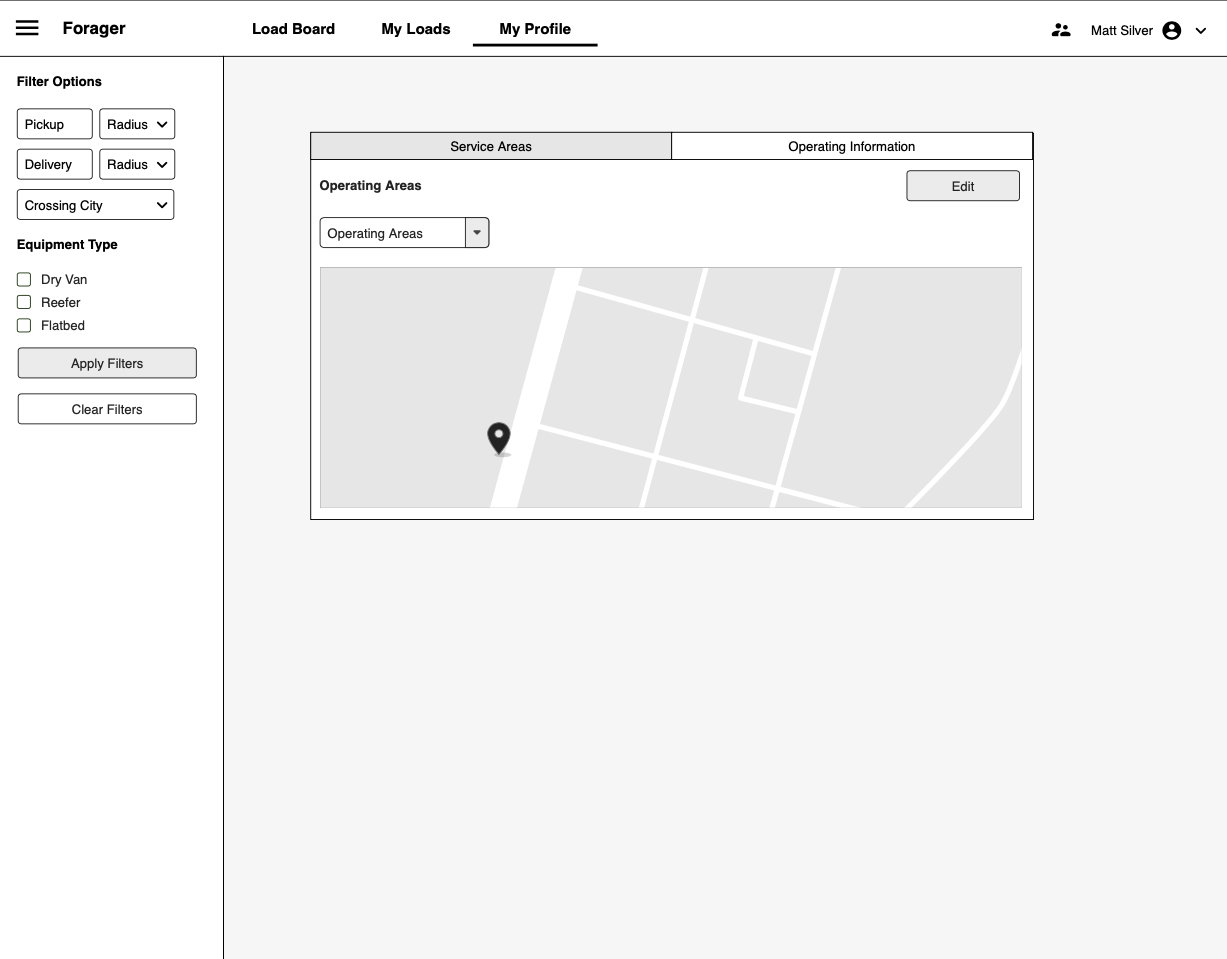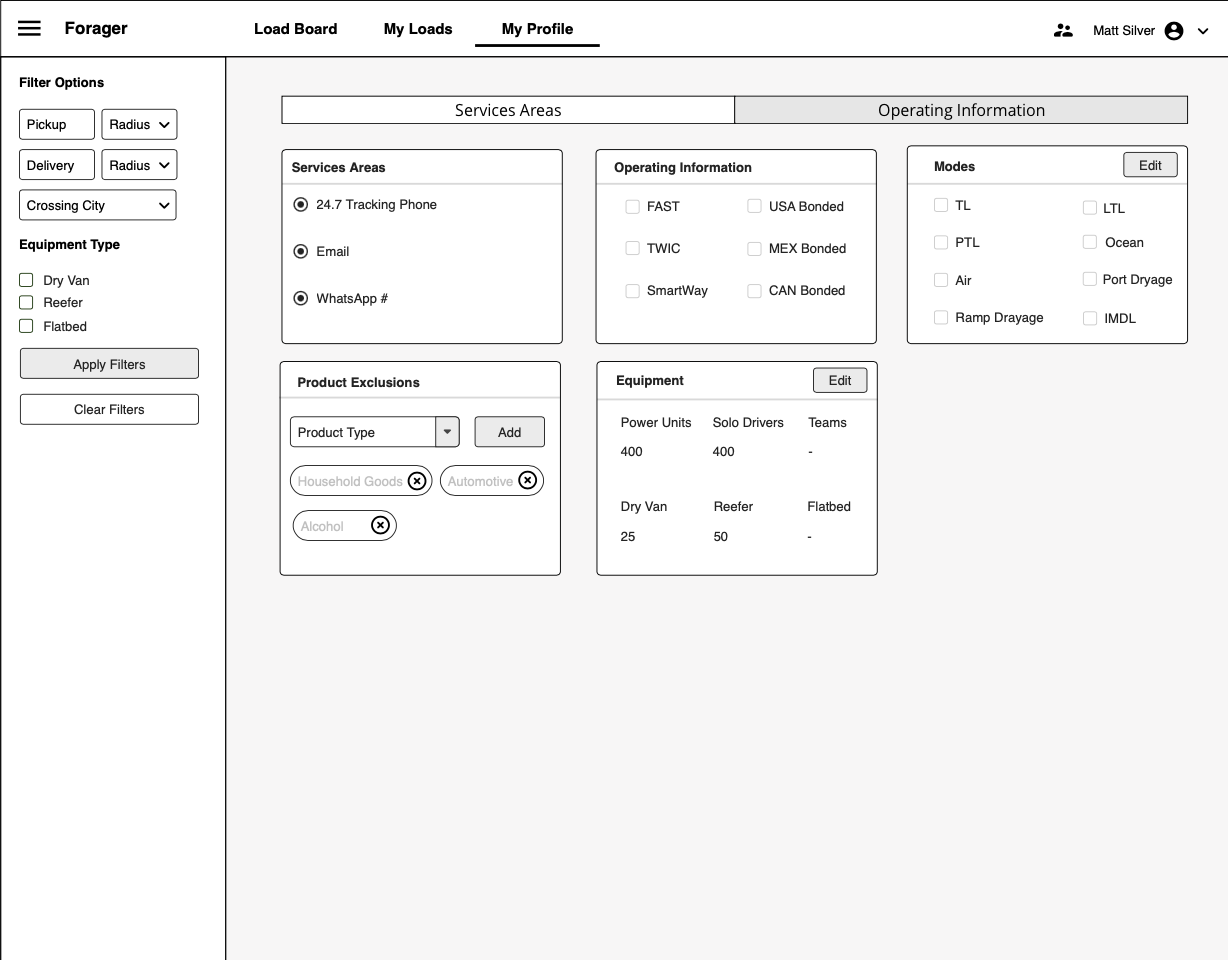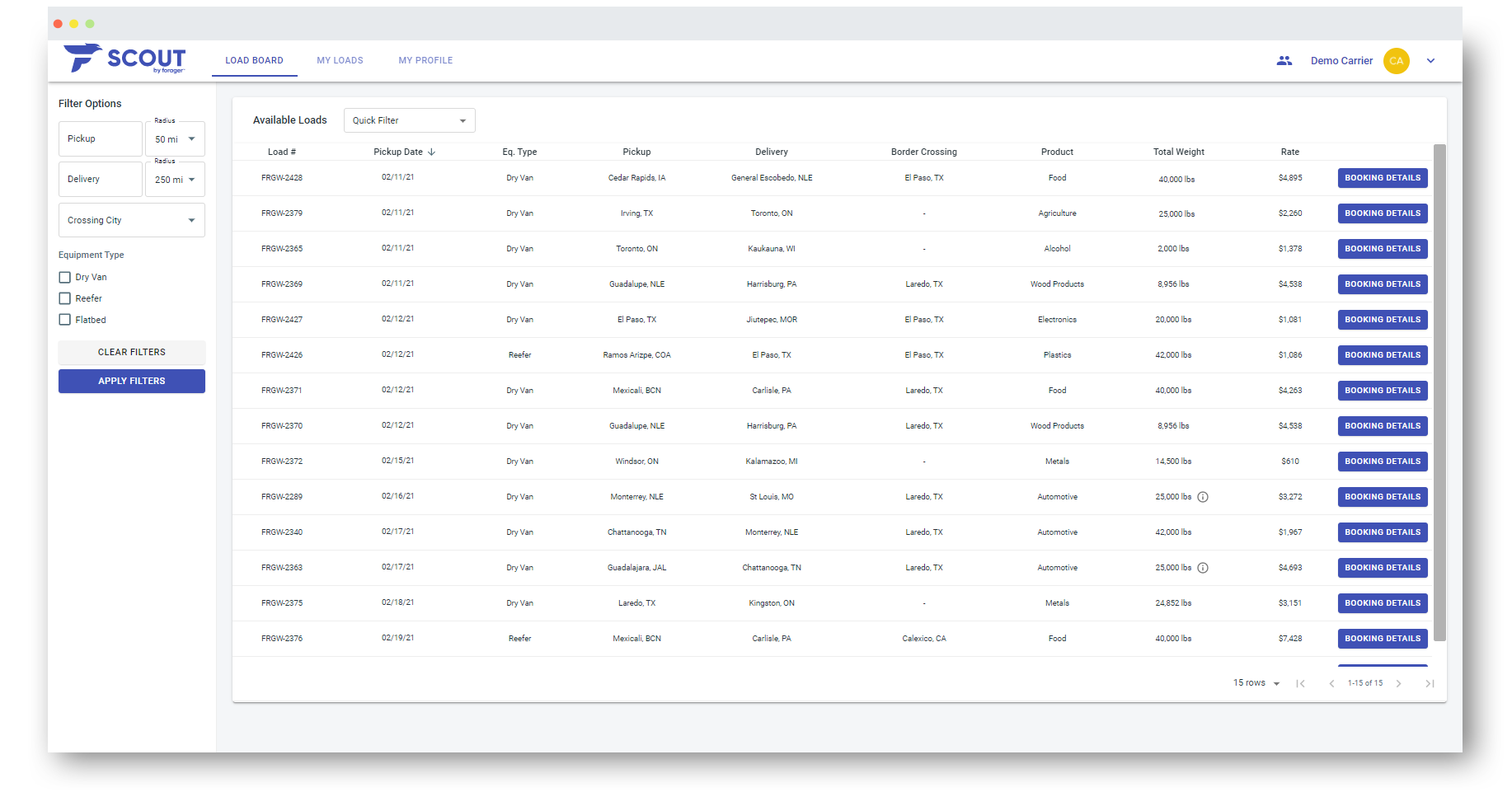 UI Design
Once the wireframes went through a couple of rounds of feedback I started designing the final screens.
Utilizing our component library I was able to create the load board, loads, and profile pages rather quickly. This was due to being able to reuse components that I had already designed. They flexible enough to work in the carrier portal for our use cases. I did however spend some time getting the bidding process designed so I could get feedback on how users would ultimately see and interact with this flow.
Ultimately we met most of our initial goals for the MVP. We provided a self-service option for carriers to bid on loads. Also, Forager reps moved away from the back and forth of phone calls in order to get loads covered. But due to technical constraints, we couldn't fully move them away from bid management in this iteration.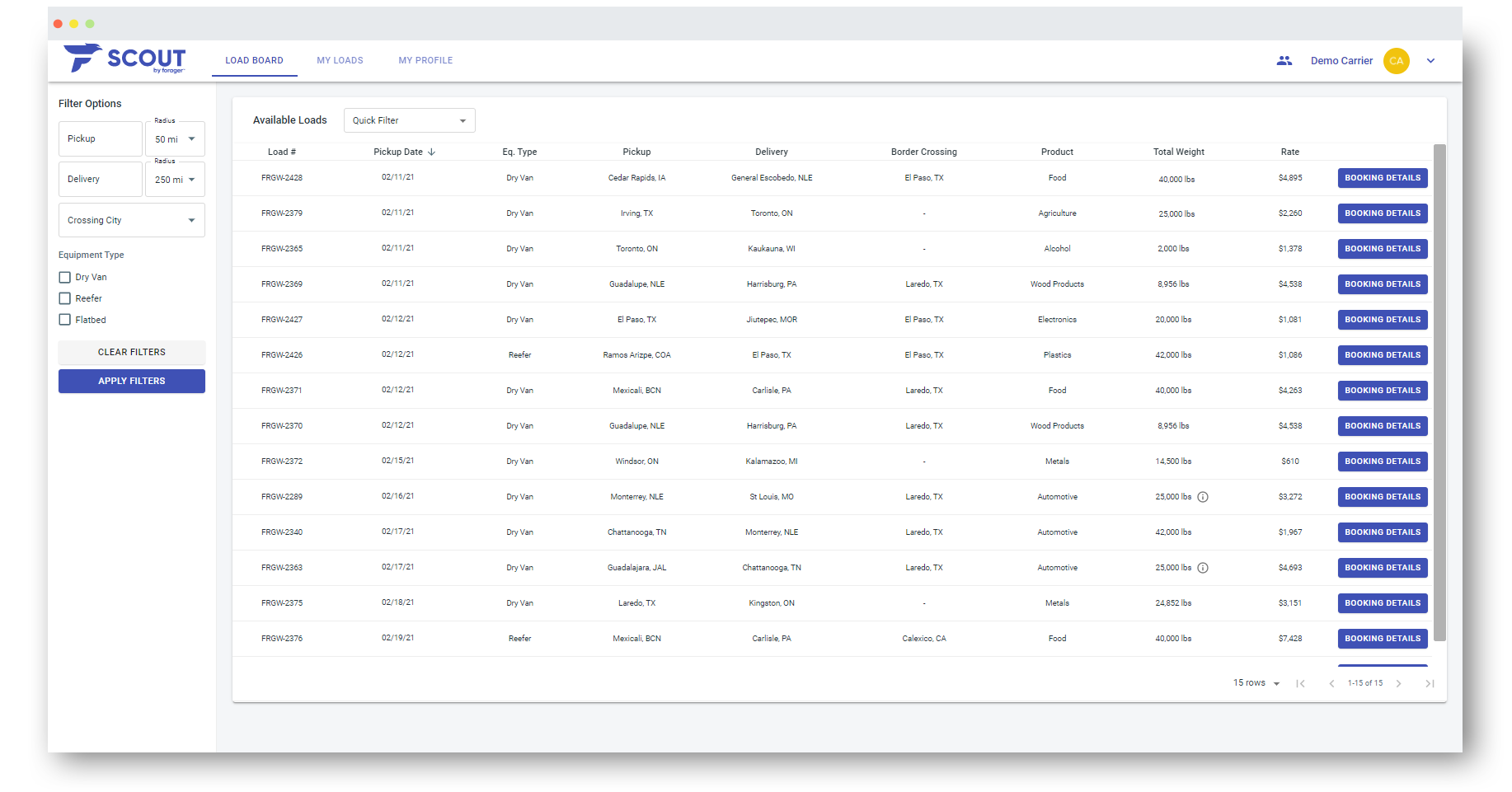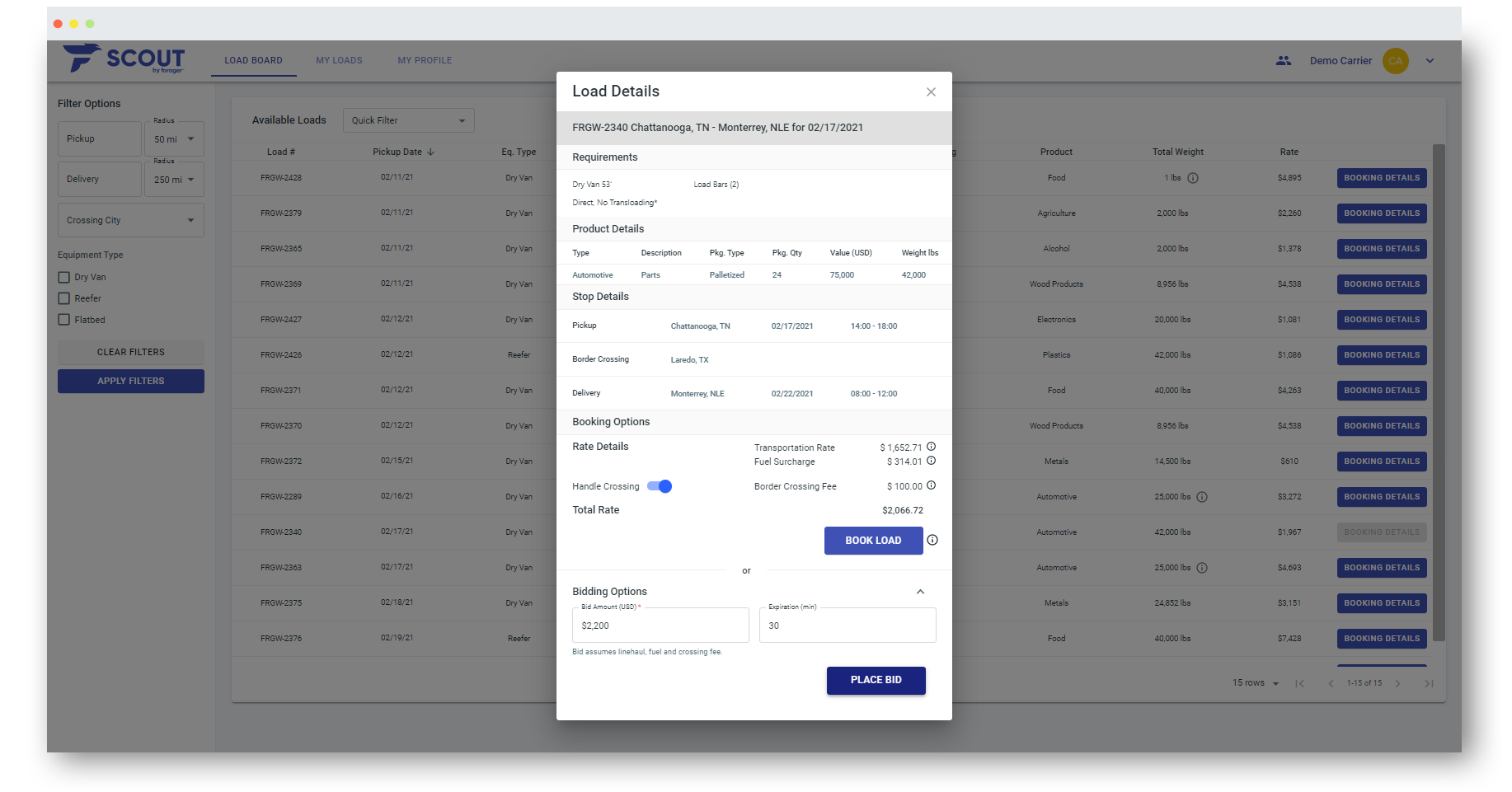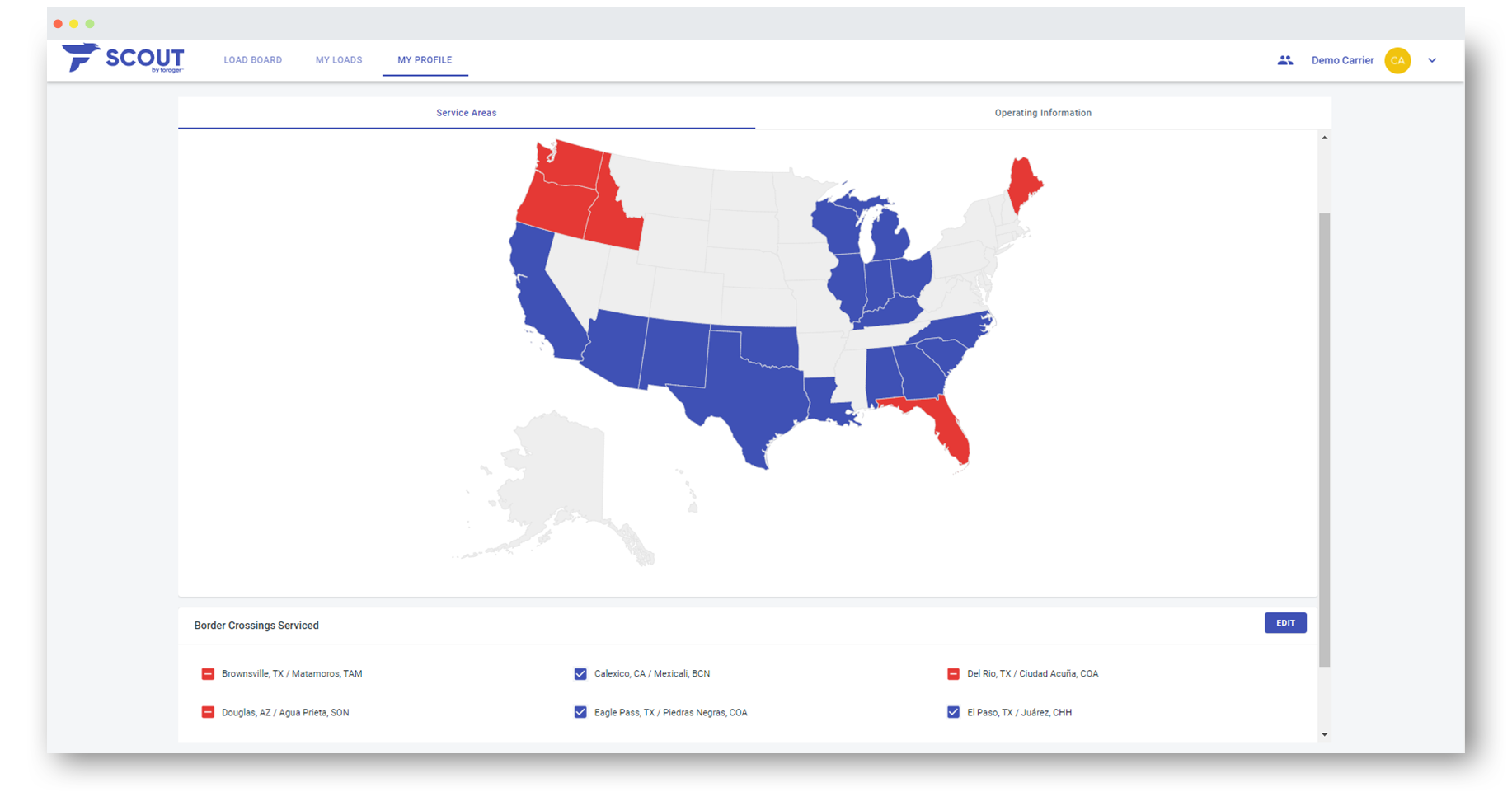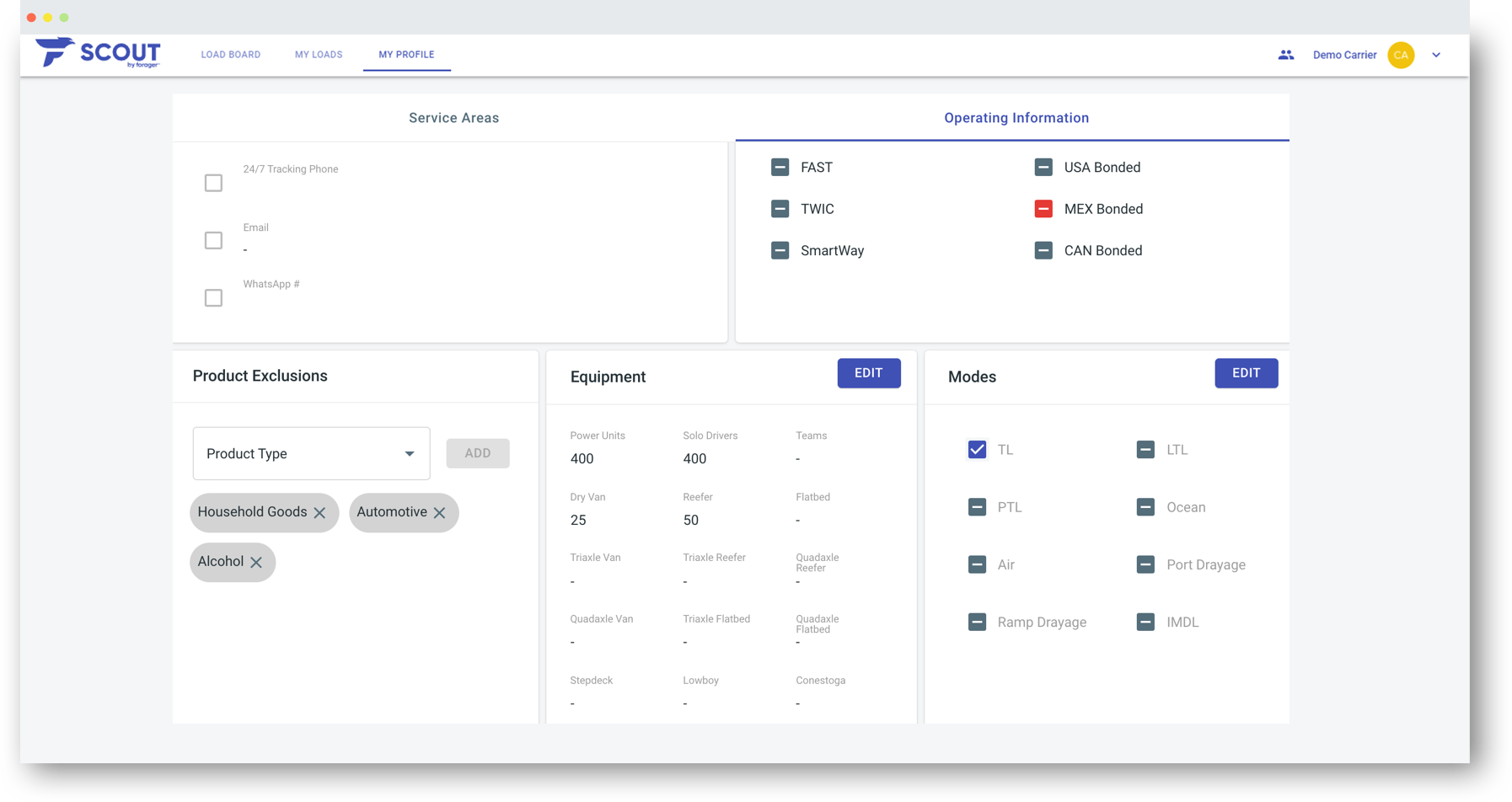 Retrospective
I learned a lot about what carriers go through and the pain points they have when doing their jobs. I would have liked to do a few more interviews with other carriers because we had a small sample size and we didn't speak to a Candian carrier. I think there were more insights to unearth and we could have possibly learned more to make their jobs easier.
The most important thing that I would have liked to have done was usability testing. There was no testing involved due to time constraints and my bandwidth but I know we could have learned a lot by testing. Feedback is important and if we could have done testing with the group we were building this for. Then I could feel more comfortable we built a product truly for them. I've learned we do not design for ourselves and their feedback on the designs could have helped developed a stronger solution.